Buying interior decorative mirrors
Things To Know Before Buying Interior Decorative Mirrors
Meta: What're benefits of buying interior decorative mirrors? Why many people are interested in using mirrors to beautify their lovely home? Let's find them out!
Decorative mirrors are a part of modern houses' interior thanks to their versatility. But why you should buy interior decorative mirrors? And what to take into account when it comes to the selection of decorative mirrors? Our post will help you answer these questions!
Why should you buy interior decorative mirrors?
Houses in big cities are commonly built with limited space. Therefore, architects often apply measures in interior decoration to bring the feeling of spaciousness and airiness. Decorative mirrors would be an important element in such measures.
Interior decorative mirrors are used not only for the simple purpose of looking at oneself but also adding unique highlights to our living space. Gradually, they have become an indispensable part in the home interior design. With a mirror, the space of living room, kitchen and bedroom would seem broader in addition to increased aesthetics.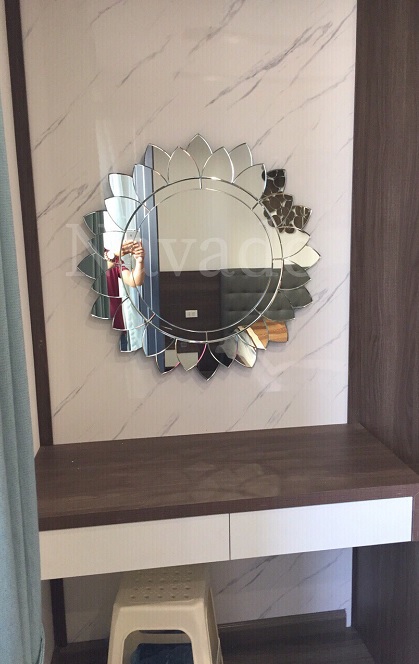 Decorative mirrors create a spacious feeling
Beyond being a decor, decorative mirrors also help to improve your house's Feng Shui. For example:
Living room would be the most important site because it's where the 'face' of our house is shown off. Therefore, hanging a mirror in the living room shall create spaciousness, and reflection of natural plants shall bring more energy to the house.
Dining room would be the place for family reunions. Thus, a mirror in the room looks like a picture of a happy family, which is so meaningful. In addition, hanging a mirror in the dining room could enhance positive energy of the house, which also means doubling the prosperity of the family.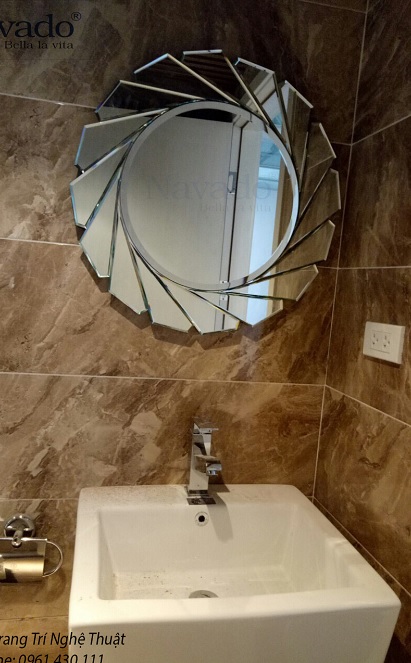 Hanging a mirror in the dining room improves positive energy
What should you pay attention when buying interior decorative mirrors?
Selection should be based on the style of your house
The selected interior decorative mirrors should be in harmony with other furniture and in connection with the style of the house. For example, a modern house with state-of-the-art equipment would not be suitable for a large-sized gold-plated mirror with redundant decoration.
For a luxurious noble villa, using modern geometric-designed mirrors would not be allowed. In short, mirrors placed in inappropriate space could not prove their inherent aesthetics as well as deteriorate the whole beauty of interior decoration. Therefore, please be sensible when deciding the style of mirrors.
Take a close look at size selection when buying interior decorative mirrors
Each room in a house has a different area. Therefore, choosing appropriate mirrors for such rooms would not be the same. For example, the large living room shall be suitable for large-sized mirrors with an impressive design. By contrast, the bedroom is the space for resting, so it should be decorated with simple subtle-styled mirrors or many small ones to bring a more peaceful and relaxed feeling.
Just remember that the harmony of mirror size and room area shall bring balance to the space and leverage the room's level.
Some styles of decorative mirrors for your consideration
With high demand for using decorative mirrors, there is an increased number of uniquely-designed decorative mirrors. This would benefit customers in choosing a suitable one.
Wall-mounted leather strap mirrors
They are for those who love simplicity and modernity. Their simple design, which consists only round mirror fringed with leather and a leather strap, has stirred up the market. The simple yet elegant design may be the reason why it is preferred.
Wall-mounted leather strap mirror is simple but elegant and delicate
Artistic LED light mirrors
They make the space bright because of being designed with unique cuts or in a soft femininity line, combined with the light of LEDs. All of those traits make this type of mirror a suitable choice for bedroom or bathroom.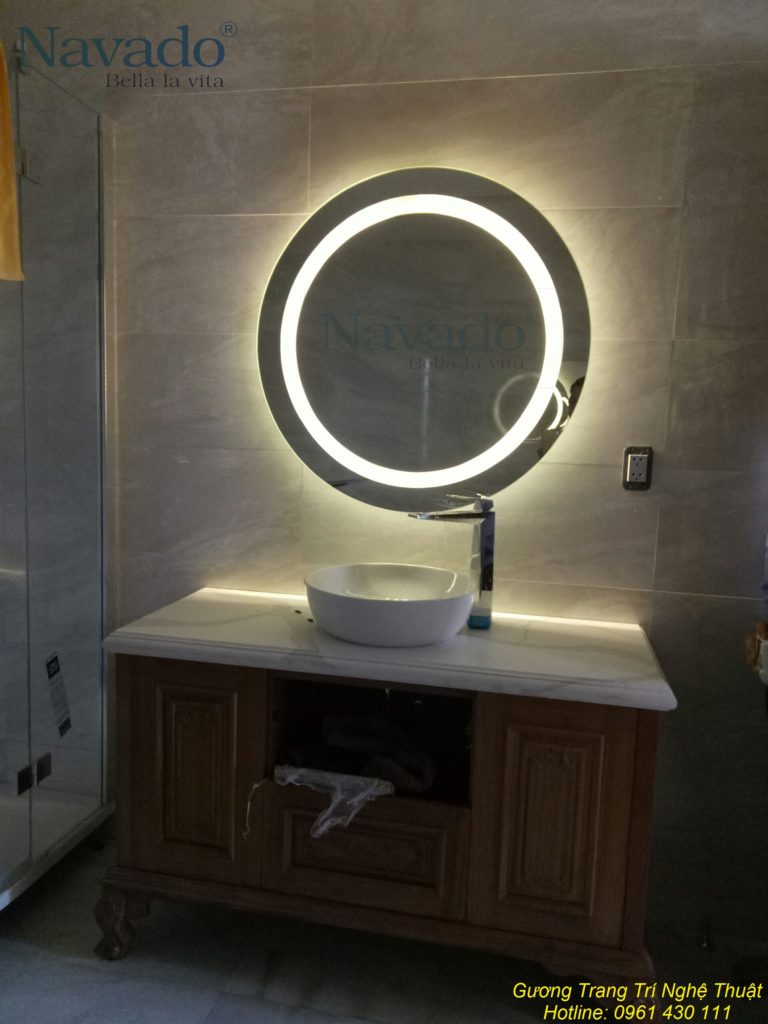 LED light mirror makes the room brighter
Neoclassical mirrors
They are modern and classic because of being designed with delicate gold-plated border. Those mirrors bring the luxurious and noble beauty to the room.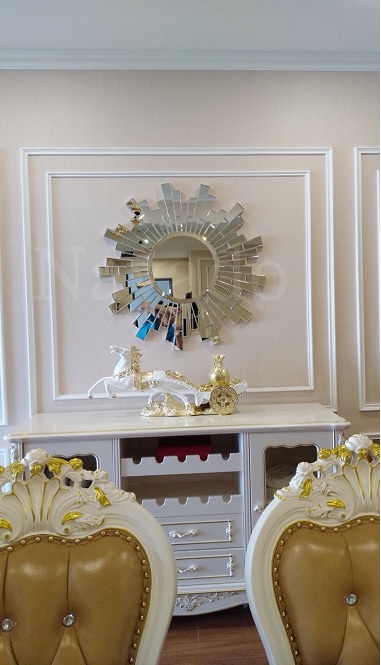 Neoclassical mirrors bring luxury and nobleness
Wall mirrors
They would be a choice for those who love creativeness. The combination of many mirrors with different shapes and sizes is preferred by modern homeowners. By this way, wall mirrors really make corridor less boring.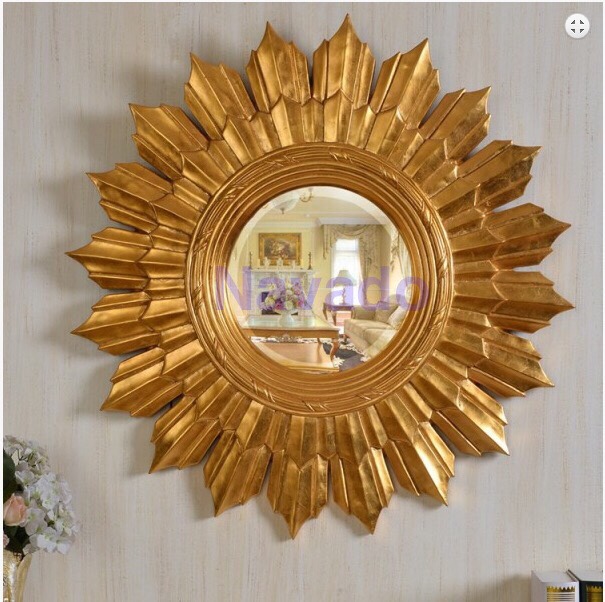 Wall mirrors make the house more fascinating
Could be sure that people will remain their fondness for buying interior decorative mirrors in the future? The answer is YES.
If you still don't know where to buy interior decorative mirrors, please come to NAVADO to contemplate various styles of mirrors and pick up decorative ones for your home. Also, visit our website or showroom to receive the best advice and care. Thank you for reading!